Websites for Mobile Devices
Customers are connecting with local businesses on their mobile
Google's Mobile Site Best Practises recommends using a mobile site redirect that can automatically tell if a visitor is using a mobile device, and then send them to a mobile version of your web site.
The mobile version of your web site should include key contact information such as address, phone number, email address, and map location. Visitors should also have the choice to continue to the normal desktop site.
Analysis of our visitor figures shows that up to one third of visitors to your website will come from a mobile device. Very often, all they are looking for is your address or phone number.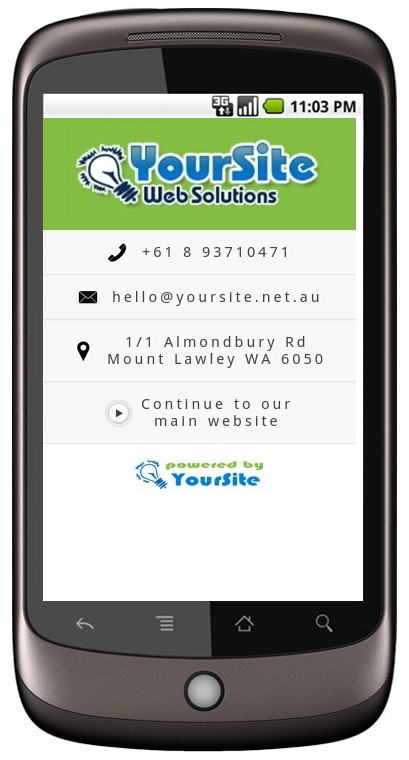 What Does YourSite Include?
At Yoursite, we have implemented this recommendation and created a mobile landing page as a standard feature of the YourSite system.
In general your mobile URL will be your domain name with an 'm' prefix instead of the usual 'www'.
The landing page will extract your existing contact information from the database including phone number, email address and street address plus a link to Google Maps for your address if you have added one.
A simple tap on the phone number is all that is required with click-to-call functionality for all phone numbers.
You can Checkout YourSite's mobile landing page here.
For a more comprehensive view of what 'Mobile Web' can do visit Stanbridges's mobile web site here.
Custom Mobile Website Design and Development
If your mobile site requires a custom solution to provide your customers with easy mobile access to your products, or to make reservations or book an appointment, contact us today. We can provide development services including:
Mobile Website Design
Mobile Website Development
Mobile Website Hosting
Contact us today to find out more about adding a mobile landing page or website to your website.
Quick Links to...
Standard Features
Premium Features